Faux Fuchsia's amazing adventures with Oprah have inspired me to do a favourite things post!  My home is not currently worth photographing (toddler+FT work+daycare+petri-dish-of-gross), but I CAN borrow pictures of products that are my holy grails this year and share them with you!  Just so you know, this is all stuff I have paid for, and that these companies have been happy to take my money for.  No affiliations, no freebies, just hardcore curating on my own.
This Benefit Benetint lip-balm for example.  Amazing.  It's my favourite thing for 2015 by far.  It smells like Benetint, but goes on like a balm.  Gorgeous.  I feel happy just thinking about it!
While I'm on a Benefit trip, my second winner for 2015 would have to be this browvolutionary brow mascara, Gimme Brow.  I loathe the overattention to brows right now.  It's as bad as the overplucked thing in the nineties except now it's the reverse.  Now it's about the perfect large brow that to me still looks painted on and totally overthought.  They're eyebrows!  Make them look like eyebrows!  Which is what this does.  I mascara it onto my overplucked nineties eyebrows and it fills them in without them looking painted-on or overthought.
Next is Clarins Moisture-Rich Body Lotion.  This stuff smells like I just stepped out of a spa.  It smells like freshly-made soap or something.  It smells like really really lovely body lotion.  I've lost of count of the amount of various scented ones I've gone through, but at the end of the day, I just want a nice body lotion that smells like amazing body lotion.  This stuff is divine.  AND moisturising.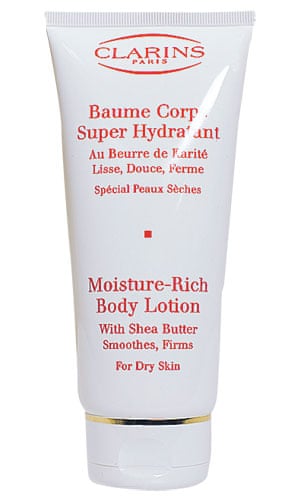 I clearly like doing things in two's because I have to do another body-product, Nuxe Dry Oil (Huile Prodigeuse).  This oil is what I imagine a cool Parisian lady smells like on date-night.  It smells sexy without being heavy and cloying (my least favourite smell in the world is that Angel perfume), it moisturises but it's not actually oily and it comes in a bronzer version.  It was hugely popular this year and with GOOD REASON.
My conditioner.  A hairdresser told me once I have 'porous' hair.  Whatever.  I think they meant 'dry' but probably wanted to sell me something.  Anyway it's dry, and it's fine, and it frizzes like all women with Irish heritage hair does, and if I try shine serums, creams etc, then it's frizzy AND oily.  This is the only conditioner I've found that just restores it to being, well, hair.  Hair that looks normal.  And flat.  I don't bother with the shampoo because I think expensive shampoo is a complete waste of time on my hair.  It's called Original Minerals Fine Intellect if you're interested.
And while we're on hair…once a week, one to two teaspoons, as a pre-shampoo mask.  Life changing.
Laneige skin care.  I went through a bit of a Korean phase earlier this year and while I discovered that most of their skincare is NOT designed for mid-30s skin on the dry side (quite the opposite), I found this amazing aqueous cream that is light, smells gorgeous, and can go under my sunscreen.  I don't know WHY I have to put moisturiser under my sunscreen, I just do.  I love this balancing emulsion so much, it's so light and not oily.  I like Laneige in general – the others like Etude House and Missha make too many products that can be mistaken for paint-stripper.  I used a bi-carb based foaming cleanser to clean my patent leather shoes and they came up a treat.
Piksters.  Where have you been my whole life?  I hate flossing.  I had braces for 3 years and my teeth are so jammed together that nothing gets between them.  Least of all dental floss.  Look these are basically miniature pipe-cleaners that someone has made an incredible amount of money on, but I adore them.  I tried the water-pick thing, I've tried the flat dental tape, but nothing comes close to these things.
Aside from having really porous hair it's also really knotty and painful.  I found this a few years back and now I cannot live without it.  You can brush your hair and it doesn't hurt!! At all! And it feels nice on your scalp!!  I need to buy a few more, they're called Tangle Teezers and they look exactly like a dog brush.
Diorshow Iconic Overcurl mascara.  Or something like that.  Years ago on the Vogue Forum everyone went crazy over Diorshow.  It was a cult that lasted years, like Juicytubes and the Seafoam Balenciaga Motorcycle bag because Nicky Hilton had one and curiously this made it popular.  Since then Dior have capitalised on this by releasing loads of different mascaras of some Diorshow flavour, and I found this one in my mother's cosmetic bag, tried it, then ordered my own.  It curls your eyelashes.  IT DOESN'T DROP ON YOUR FACE.  And it comes off easily in the shower.
And finally, even though it's my perennial favourite perfume, it deserves to be here.  I fell in love with the Fragonard brand when I travelled through the South of France in a tiny car on terrifyingly narrow roads with my husband.  We stopped in Grasse and discovered the wonderful Fragonard factory, and learned how they are perfumier for Chanel.  I cannot begin to describe the smell in the air in Grasse, it is where all the scented flowers that go into the perfumes are grown.  Iles D'Amour is the closest I've come, and it's not even the most popular one.  These days you can buy Fragonard at a couple of places in Australia – Klein's in Melbourne have a limited range, and Le Bon Addresse in QVB Sydney has the best range I've seen.  My husband picked this one out for me after dutifully listening to me bang on for half an hour in the factory shop about how hard it is to find perfume's that suit me.  The best part is that next-to-no-one  know has it, so it really is my signature scent.
I found that a very useful exercise insofar as I now have a list for myself to refer to, and hopefully you lovely reader, have some Secret-Santa / stocking stuffer ideas.  I'm sure I have more to add but that's plenty for now.  And written in the ten minutes I have of sitting before crawling into bed, so it sadly lacks in attractive picture-arranging.  In time!  I have a part-time job next year!  The true holy grail of medicine exists!